Penn Toyota > 2019 Toyota Prius
Toyota Prius
Led the revolution. Still a brilliant solution.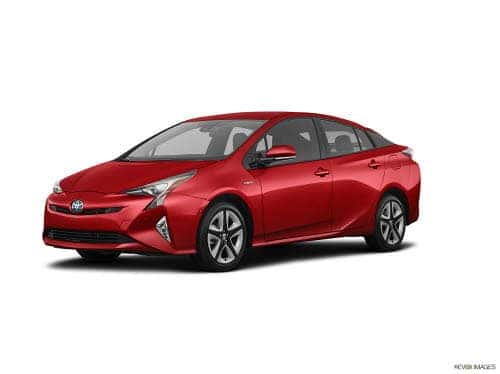 2019 TOYOTA PRIUS
MSRP
$24,685
Engine
1.8L 4-Cylinder/Electric Hybrid
Horsepower
121 HP @ 5200 rpm
Fuel Economy
54 City/50 Highway mpg*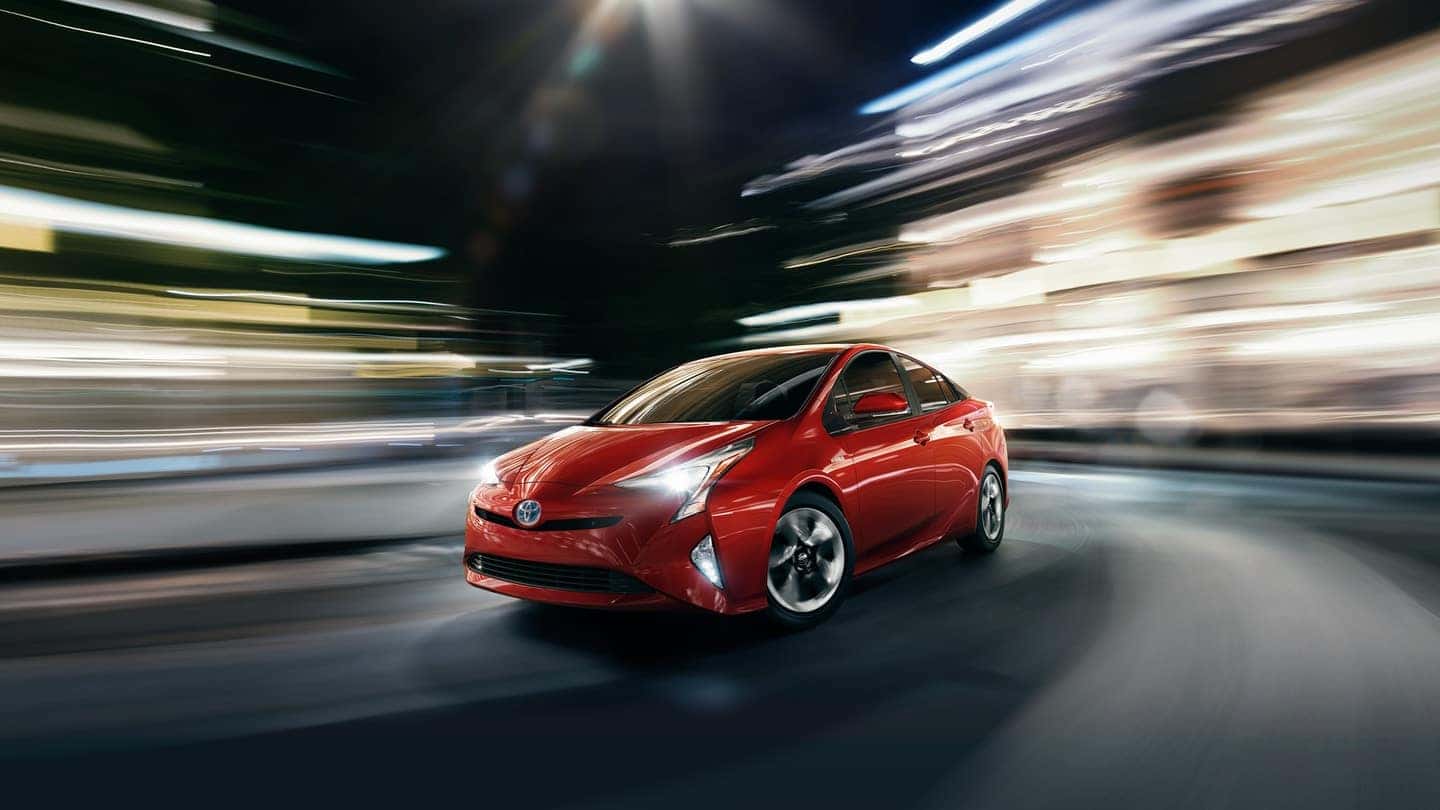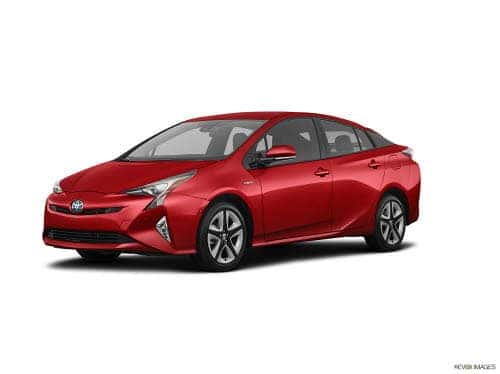 View Inventory
TOYOTA PRIUS

"If you want pure efficiency and eco-friendly driving, and the option of a plug-in, the 2019 Toyota Prius remains at the top of the heap. 2019 models have all gotten refreshed styling."
2018 Toyota Prius
Serving Greenvale, NY
The 2019 model bills itself as a "brilliant solution" and the folks here in Greenvale, Valley Stream, Long Island, Bayside, and Westbury New York seem to agree. It's always a vehicle of great interest for those who want an economical solution that doesn't skimp on the features. Since 1997, the Toyota Prius has been a vehicle of great ingenuity and innovation. New York residents simply love it. Here's what they have to look forward to in 2019.
---
EXTERIOR
The new model comes in a wide variety of luxurious colors: Hypersonic red, Blizzard Pearl, Classic Silver Metallic, Magnetic Gray Metallic, Midnight Black Metallic, Sea Glass Pearl, and Blue Crush Metallic. Greenvale New York residents can select from any of these amazing colors and then proceed to select from 7 different trims: Prius One, Prius Two, Prius Two Eco, Prius Three, Touring, Prius Four, and Prius Four Touring. Whether you want an economical sports vehicle or a sedan, you're going to find something to love about each of these trims, and you can customize until you have exactly the vehicle you want to go home in.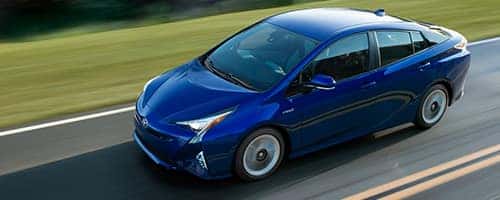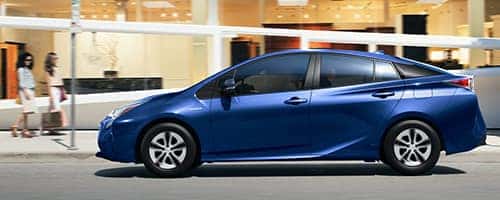 ---
PERFORMANCE
NY drivers will love the double wishbone rear-link suspension that harnesses all of the power of the new Prius and makes your vehicle completely responsive to your commands. The One features a 1.8-Liter, 4-cylinder Aluminum DOHC 16-Valve with Variable Valve Timing with intelligence and it gives you 95 horsepower @ 5200 rpm. The majority of trims will feature this engine, so become familiar with it if you're particularly interested in getting the engine you want. Yes, there are upgrades, but we all know that no one in Greenvale NY or anywhere else is going to buy a Prius for the raw power they get. What they want is efficiency, and the 2018 class is definitely high on efficiency and smoothness.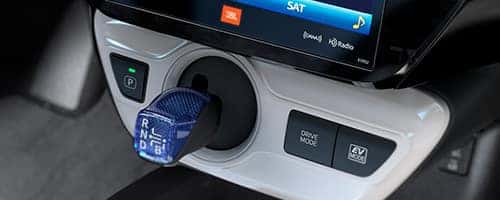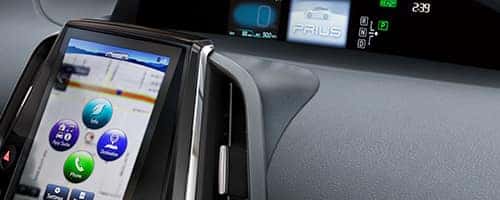 ---
INTERIOR
There's 27.4 cubic feet of cargo space behind the rear seats, a huge upgrade form previous versions, so you're going to be able to take a lot more with you when you go. A spacious center console will make your workday commute more pleasant than ever before, with tons of space for your drinks and other important daily objects. And if you want a bit of luxury, look no further than standard heated front seats. And your seats, as always, are warm and cozy when you most need them to be.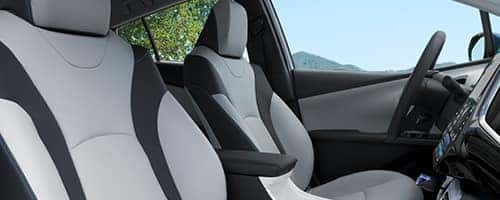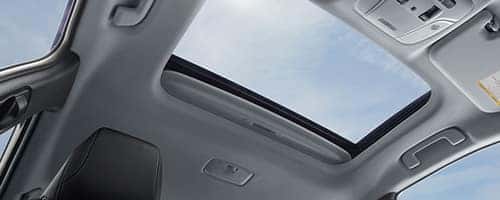 ---
SAFETY
The new model strives to give you the safety you expect from any Toyota vehicle. There are many features to appreciate: Blind spot monitor, Rear Cross-Traffic Alert, Backup Camera, and Rain-sensing Wipers to help keep you focused on the road and not your controls. These little touches mean a lot in a vehicle that people expect to be at the forefront of safety. As a practical everyday vehicle, the new model shines on safety.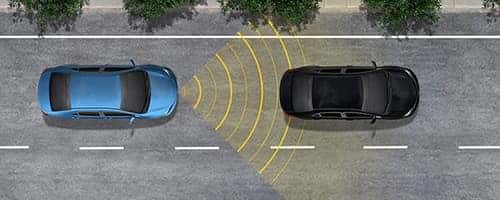 ---
TECHNOLOGY
Some of the safety features are built right into the technology features. For example, there's a terrific collision alert system that thrives on Intelligent Clearance Sonor, a safety technology that will alert you if you get too close to objects while you're parking. This will prevent many accidents for drivers. The vehicle is also compatible with your wireless devices. Charge them wireless via Qi. That's a huge perk for today's very connected drivers and passengers. Entune Premium Audio rounds out a very nice list of features that give today's heavily connected drivers the kind of connectivity they need to have a comfortable commute each day. It's a practical list of features that impresses.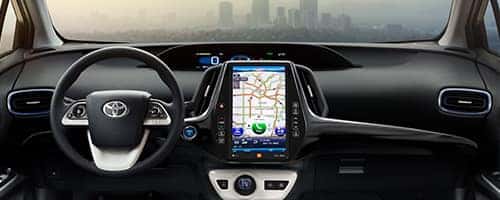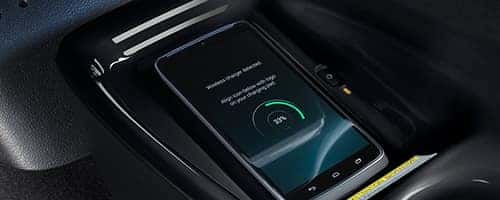 ---
Toyota Dealer in Greenvale, NY
The Toyota difference.
Can't wait to check out the 2019 Toyota Prius? We welcome you to our dealership in Greenvale, NY. With a reputation for dutifully serving Bayside, Westbury, Valley Stream, and Long Island, our Greenvale, NY location is the ideal place to visit for your latest vehicle purchase. One of our Toyota specialists in Greenvale, New York Toyota will be more than happy and able to assist you. Call us at our New York dealership today to set up an appointment.
* EPA estimated MPG may vary by transmission, trim and individual driving behavior.